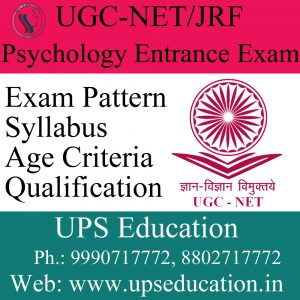 NET Psychology Examination Pattern: The test consists of three papers and all the three papers are objective in nature.
Going acquainted with the syllabus: Run through the syllabus thoroughly. It is important that you understand the syllabus completely and prepare for each topic accordingly. Do not leave out any topic.
Age Criteria:
1. Junior Research Fellowship: Not more than 28 Years as on 1 December
2. Assistant Professor: No upper age limit for Assistant Professor.
EDUCATION QUALIFICATION: Candidates who have secured at least 55% marks in there Master degree.
Exam held in the month of: June and December (Exam is held twice a year).
Notification announced in: for the June exam, notification will be announced in the month of March and for the December exam it will be in the month of September.
Exam Pattern: Objective in Nature. . Preparation Time: Recommended a minimum of three to six Months.
Visit our website and purchase our study material and notes.
UPS Education
Contact: 9990717772, 8802717772
Website: www.upseducation.in, www.epsychology.in, www.bestpsychologycoaching.com